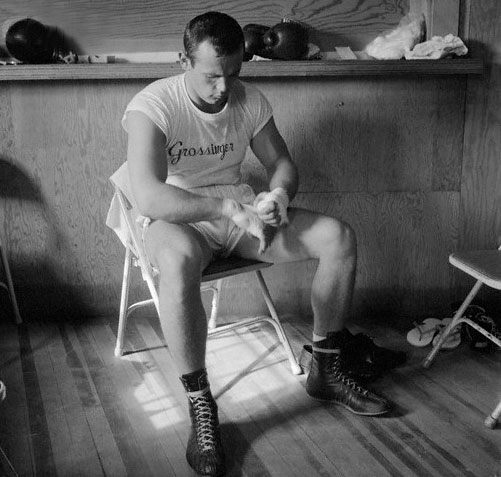 Ingo Boxers is the official sports and streetwear brand based on former Heavyweight Champion of the World, Ingemar "Ingo" Johansson. The brand pays tribute to Champ and the classic boxing culture of the 1950´s. Don´t leave home without it!
If you have questions about our brand or long for a specific t-shirt etc, please contact us: 1959@ingoboxers.com
Once a Champ always a Champ
Ingo's Right
Swedish heavyweight boxer Ingemar "Ingo" Johansson defeated Floyd Patterson to win the World Heavyweight Championship in 1959. As a result, Johansson won the Hickok Belt as top professional athlete of the year in 1959 and was named the Associated Press Male Athlete of the Year and Sports Illustrated magazine's "Sportsman of the Year". He was inducted into the World Boxing Hall of Fame in 1988 and the International Boxing Hall of Fame in 2002.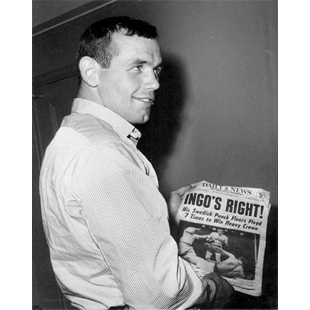 The Ring Magazine
Johansson enjoyed a successful career as a heavyweight. He retired in 1963 with a record of 26 wins, 17 by KO, and only 2 losses, and was named to the Ring Magazine's list of 100 greatest punchers of all time. He won the European Heavyweight championship by scoring a 13 round KO over Italian title holder Franco Cavicchi. Johansson successfully defended his European Crown against ranked heavyweights Henry Cooper (5th round KO on May 19, 1957), and Joe Erskine, who he TKOed in 13 on February 21, 1958.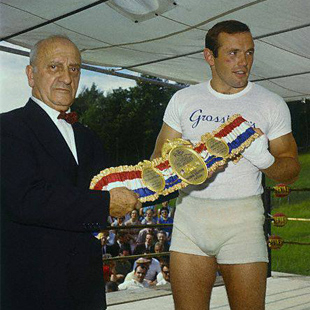 Ingo vs Eddie Machen
Johansson earned his shot at the world heavyweight crown when he KOed top ranked contender Eddie Machen in the first round of their elimination match. Johansson then signed to fight champion Floyd Patterson. Johansson was a colorful figure in New York as he trained for the fight. Eschewing the monastic training regimen favored by Patterson and other fighters, Johansson trained at the Catskill resort of Grossingers. He didn't seem to train particularly hard, and was often seen at night spots with his attractive "secretary". Accordingly, he entered the ring on June 26, 1959 as a 5-1 underdog.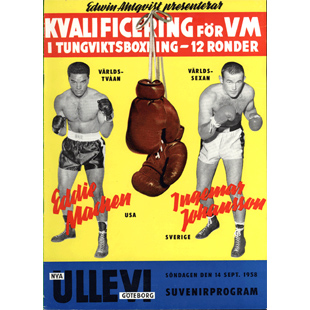 World Heavyweight Champion
Johansson spent the first two rounds of the encounter retreating and flicking a light left jab at the champion. In the third round, Johansson threw a wide left hook that Patterson blocked with his right hand. When he moved his right hand away from its protective peek-a-boo position before his chin, Johansson drilled him with a short powerful right hand. Patterson went down, arose on unsteady legs and was out on his feet. Johansson followed up his advantage and sent Patterson down 6 more times in the round before the bout was stopped by referee Ruby Goldstein.